Despite the fact that Pakistan Peoples Party (PPP) clinched majority seats in the local government by-elections in Karachi, no single party has a simple majority of 179 votes needed for the seat of Karachi mayor.
PPP will need at least 22 seats even after an alliance with Jamiat Ulema-e-Islam (JUI) and Pakistan Muslim League-Nawaz (PML-N).
In terms of the number of seats, PPP is the largest party in Karachi with 98 seats so far, followed by Jamaat-e-Islami (JI) with 89 seats and Pakistan Tehreek-e-Insaf (PTI) with 42 seats; however, none has a simple majority.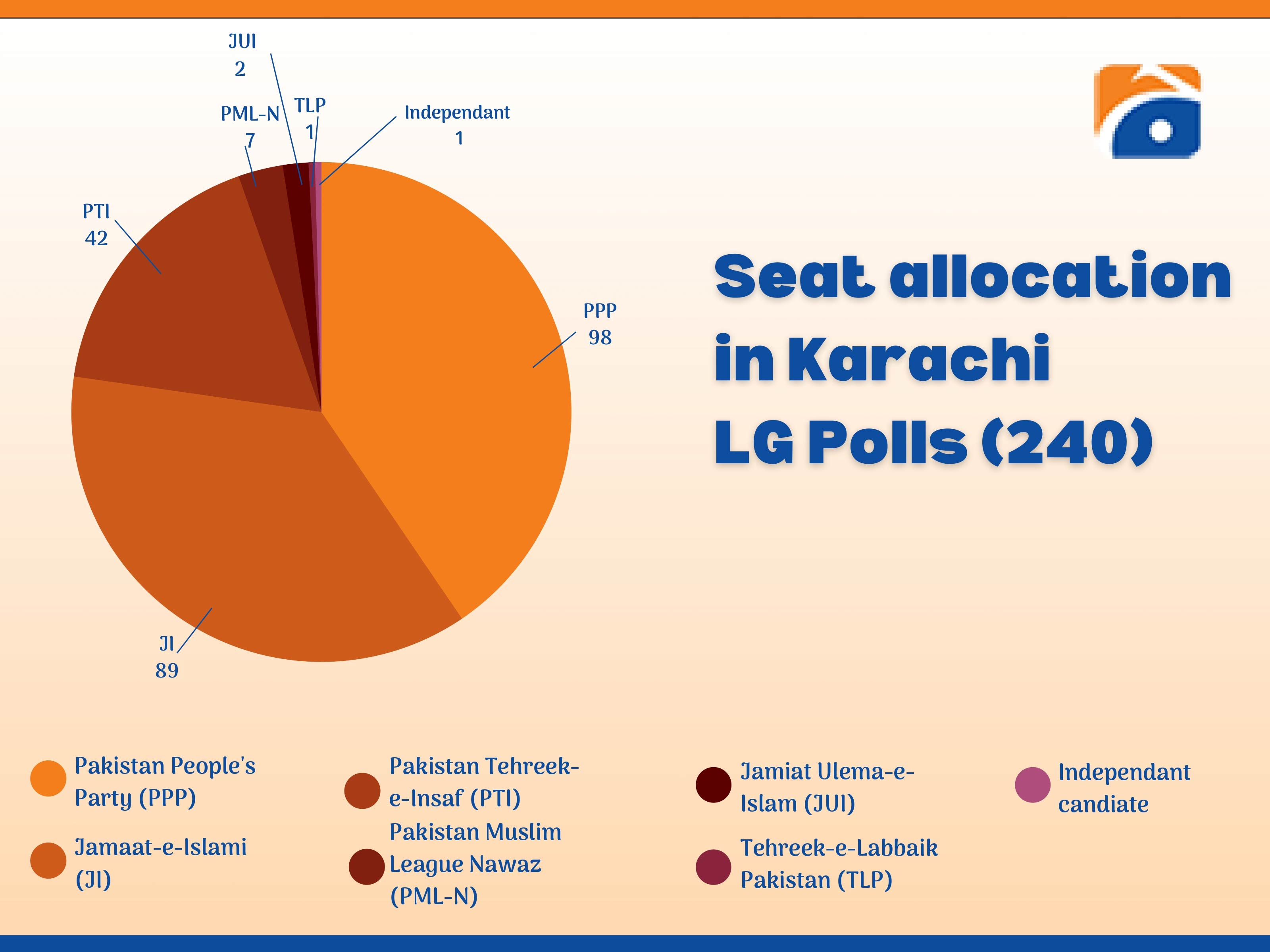 According to political experts, prospects of putting forward the next mayor of Karachi are bright; however, given that a party needs at least 124 seats (reserved seats not included) in the city council to secure the desired majority for winning the mayoral poll, the party will have to form alliances.
Moreover, it is pertinent to note that while PPP will need at least 22 seats after forming an alliance with JUI and PML-N. If JI and PTI were to become allies, they would have a clear majority easily.
Following the completion of the direct phase of municipal elections, reserved seats will now be allocated to parties.
This way, the number of members of the House of the Karachi Metropolitan Corporation (KMC) will reach 367 after the election on 246 direct seats and the allocation of 121 reserved seats in six categories.
In the House, 1% of seats are reserved for transpersons (2), 1% for differently-abled people (2), 33% for women (81), 5% for youth (12), 5% for workers or farmers (12) and 5% for minorities (12).
According to the party position achieved so far, of the reserved seats PPP will get 32 for women, five for youth, five for labourers, five for minority, one for differently-abled, and one for transgender persons on the basis of majority, after which the number of PPP members in the city council is likely to be 144.
On the other hand, JI is likely to get a total of 121 seats after 28 seats for women, four for youth, four for labour and farmers, four for minorities, and one each for differently-abled and transgender people.
Moreover, the PTI is likely to get 20, while the PML-N is expected to secure two reserved seats in the city council, after winning in seven UCs.
Tailing behind the rest are JUI with two seats and Tehreek-e-Labbaik Pakistan (TLP) and an independent candidate with one seat each.
---
— With additional help from NNI