Police in the United Kingdom, who arrested the relatives of Sara Sharif said early Friday that her father, stepmother and her uncle have been charged with killing her as they were detained just after arriving in Britain a day earlier.
The charges included causing or allowing the death of the 10-year-old, according to Surrey Police.  
A day earlier they were arrested in the UK as they landed with Surrey Police Detective Superintendent Mark Chapman saying in a televised statement earlier that this evening… "three people were arrested in connection with this investigation at Gatwick Airport."
When the body of Sara Sharif was found, a post-mortem examination report found that she sustained injuries for a long period of time.
According to the police, Urfan Sharif, 41, his partner Beinash Batool, 29, and his brother Faisal Malik, 28, — who were charged with the murder — moved to Pakistan to take refuge with relatives before Sara's body was found.
The suspects flew from Pakistan to Britain via the gulf hub before being taken into custody.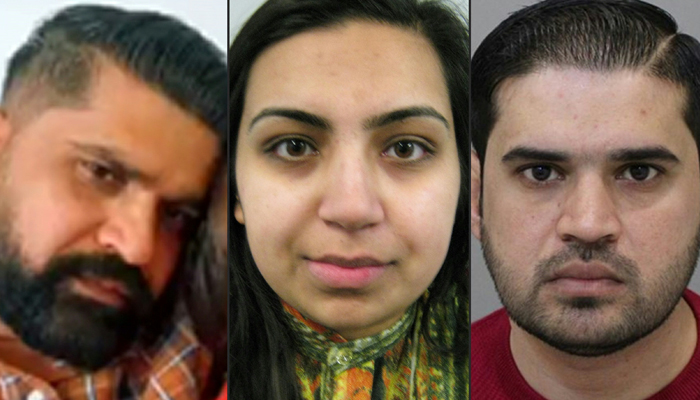 "They are currently in custody and will be interviewed in due course," Police had said.
A Pakistan police spokesman had earlier said that Sharif, Batool and Malik had voluntarily returned to Britain with the prior knowledge of authorities.
"I confirm that they have not been arrested but they left voluntarily," Raja Haq Nawaz, a lawyer for Urfan Sharif's father, also told AFP.
Sara's five siblings, aged between one and 13 years old, also flew to Pakistan on August 9 with their relatives.
Ten-year-old Sara was found dead at her family home in Woking on 10 August — a day after her father and his partner fled the UK — was found to have sustained "multiple and extensive injuries" according to post-mortem tests.
Previously, Muhammad Sharif, Sara's grandfather, told the BBC that he had been hiding the children in his home in the northeastern city of Jhelum since their arrival on 10 August.
"Since they came from the UK, I didn't let them go," Sharif told the BBC. "I told Urfan and Beinash that they can go wherever they want to, but I will not let the children go with you. Until today, no one had asked me about the children.
"They kept asking me about Urfan, Faisal and Beinash, no one asked me about the children." Sharif had previously repeatedly denied being in touch with his son or knowing where the family was.
The BBC also spoke to the sisters of Urfan Sharif, who said the children were very upset. "The children were crying, the police were dragging them away," Farzana Malik said. "They were crying a lot and saying, 'We don't want to go, we don't want to go.'"
Eyewitnesses said that police officers raided the property just before 4:30pm. Officers stopped traffic and prevented anyone from filming on their phones, neighbours said. Sharif accused the police of breaking CCTV cameras and the gates of his home.
Police have confirmed that they have the children, but Sara's father, Urfan Sharif, stepmother, Beinash Batool, and uncle, Faisal Malik, were not with the children at the time.
In a statement on Monday, Surrey Police said they were aware the children had been found by Pakistani officers.
They said they were working with Surrey County Council and international partners – "including Interpol, the Foreign, Commonwealth and Development Office and the National Crime Agency to determine the next steps".
They added that "the welfare of these five children continues to be a priority for us". On Friday, Muhammad Sharif said that he had sent a message to his son, telling him to surrender to police.