Turkiye has honoured Pakistan's Alkhidmat Foundation, a charitable organisation, for lending a big hand in the country's largest rescue, relief, and rehabilitation operation following a catastrophic earthquake of off-the-charts magnitude that claimed over 50,000 lives in the Eurasian republic and neighbouring Syria, according to an official statement issued on Wednesday.
President Recep Tayyip Erdoğan conferred the prestigious award of "Supreme Sacrifice of the Republic of Turkiye" on the charity in recognition of its vital contributions.
When the cataclysm hit the country on February 6 this year, the Alkhidmat Foundation spun into action and eventually rose to the occasion and saved the day for scores.
According to the statement, comprising 47 dedicated members, the search and rescue team, led by Ikramul Haq Subhani, worked tirelessly for 10 days in the earthquake's aftermath.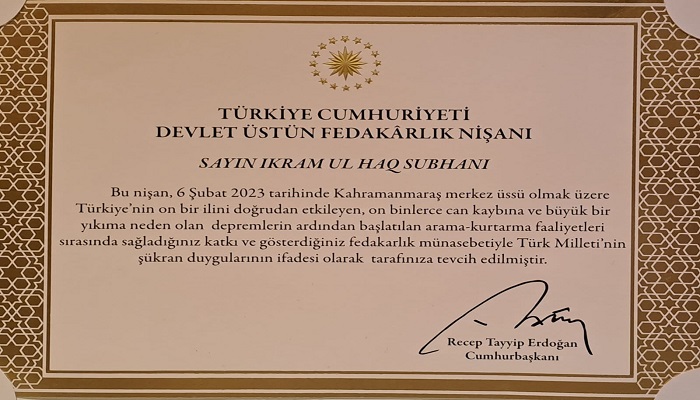 Known as 'Pak 10', the team collaborated with international counterparts, employing advanced equipment to locate survivors and retrieve victims from the rubble, the statement added.
It said President Erdogan expressed heartfelt gratitude to the Alkhidmat Foundation and the Pakistani people for their unwavering support during this challenging period.
Responding to the president's remarks, Subhani emphasised "the deep bond between Pakistan and Turkiye, a connection that drives both nations to assist one another in times of need".
Dr Hafeezur Rehman, Alkhidmat Foundation Pakistan's president, congratulated the organisation's volunteers on receiving the esteemed award, saying that "the award represents a source of pride for the entire nation".
In addition to their search and rescue work, Alkhidmat Foundation also provided essential relief supplies, including food, tents, blankets, clothing, hygiene kits, and tarpaulin to the victims of the earthquake.
"The charity's relentless efforts have endeared them to the Turkish people and reinforced the strong bond between the two countries," the statement added.