LONDON: Leading Pakistani actor Sajal Aly said that she has felt "honoured and privileged" to represent Pakistan on an international level through her international film debut 'What's Love Got To Do With It?'
The Pakistani diva was speaking to Geo News exclusively at the UK premiere of her film — made by Jemima Khan — at the Odeon Luxe cinema Leicester Square here.
Jemima, alongside the entire star cast of the film, including Sajal, Lily James, Emma Thompson, and director Shekhar Kapur, among others, graced the red carpet.
Probably for the first time ever, posters of Pakistani actor are all over London. Sajal, in her posters, beams from the billboards of 'What's Love Got To Do With It?' which have been placed at numerous places, including in the London underground and across all cinemas.
Aly was the centre of the attention as she walked the red carpet, did media interviews, and mingled with guests.
"It's a matter of honour for me to be in the film directed by Shekhar Kapur. Sharing a screen with Shabana Azmi is a dream come true. Whenever you are on such a platform, your country is with you and no doubt you are under pressure. I am privileged to be here and representing Pakistan," she said.
Aly accepted that she has been scared and worried by the level of expectations attached to her but was overjoyed that she delivered.
She said: "I am scared of the expectations. The level is too high. Every time I do a project, I am always very careful and considerate because people expect a lot from me."
The Pakistani star said it was a wonderful experience for her to work in Jemima's film, adding that everyone associated with the film made her feel welcome and at home in London.
"I was nervous coming here but I have felt as if I belong here. Everybody has made me feel welcome here."
Aly said that Jemima has "written a beautiful film" on the issue of arranged marriages. She added: "It's for the first time that a colourful Pakistan has come out in this manner in the Western countries."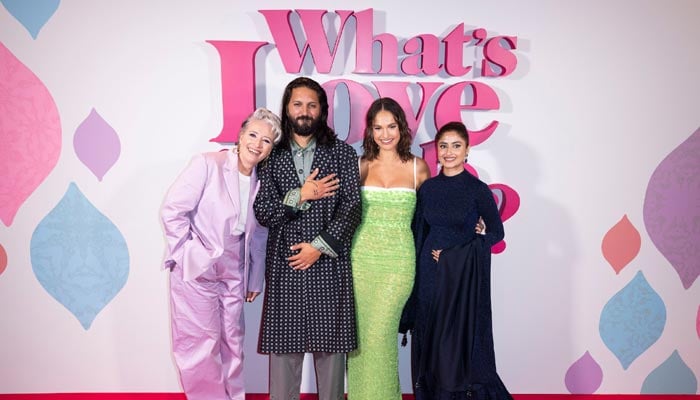 The film centres around the protagonist Zoe — a filmmaker played by actress James — as she navigates the modern dating world, parallel to her neighbour and childhood friend Kazim (Shazad Latif) as he pursues an arranged marriage with a bride (Aly) from Pakistan. The arranged marriage doesn't work out as both Shazad and Sajal go their separate ways, pursuing their own things.
Aly said about her role: "It's important that the bride (Sajal) is happy at the end of it all. She has completed her law degree. She is happy to complete her education and her parents are happy with the choices she made. Her life is complete at the end of the film. If you find the right person in life, then it's okay but it's also okay if your marriage doesn't work out. I am honoured that I did this part."
Earlier, Jemima told Geo News how she cast super-talented Pakistani actress Aly in a starring role in the film. Jemima was looking for a perfect match for English actress James — "someone as beautiful and as good an actor and as vivacious and as nuanced as James".
Instead of reaching out to a talent agency in Pakistan, as she didn't know if one existed, she rang up her ex-husband's friend Yousuf Salahuddin. Describing the Lahori man as the "unofficial king of culture in Pakistan", Jemima said she told Yousuf Salli what she needs in a Pakistani actress in terms of age, character, and looks and Yousuf Salahuddin instantly told her that Aly would do justice to the role.
"He sent me a video and put me in touch with Sajal Aly's manager. After that, she auditioned for the part and everyone was in agreement that she was perfect for the role. So it was Yousuf who was the casting agent," shared Jemima.