While the Pakistan Democratic Movement-led coalition government is facing the daunting task of keeping the $350 billion afloat by averting a possible risk of default, the nation is blaming it for the miseries as they now remember Pakistan Tehreek-e-Insaf (PTI) days when, according to them, things were under control.
An opinion poll published by Gallup showed that a majority of Pakistanis blame the coalition government for the record high inflation, while support for former prime minister Imran Khan — who was thrown out of power in April through a no-confidence motion by the PDM — has surged massively ahead of elections.
The report found that 62% of the 2,000 respondents blamed the PDM that makes up the government for the economic turmoil and inflation coming up to a nearly six-decade high. Khan's approval ratings in contrast jumped to 61% in February from 36% in January last year, polling data showed.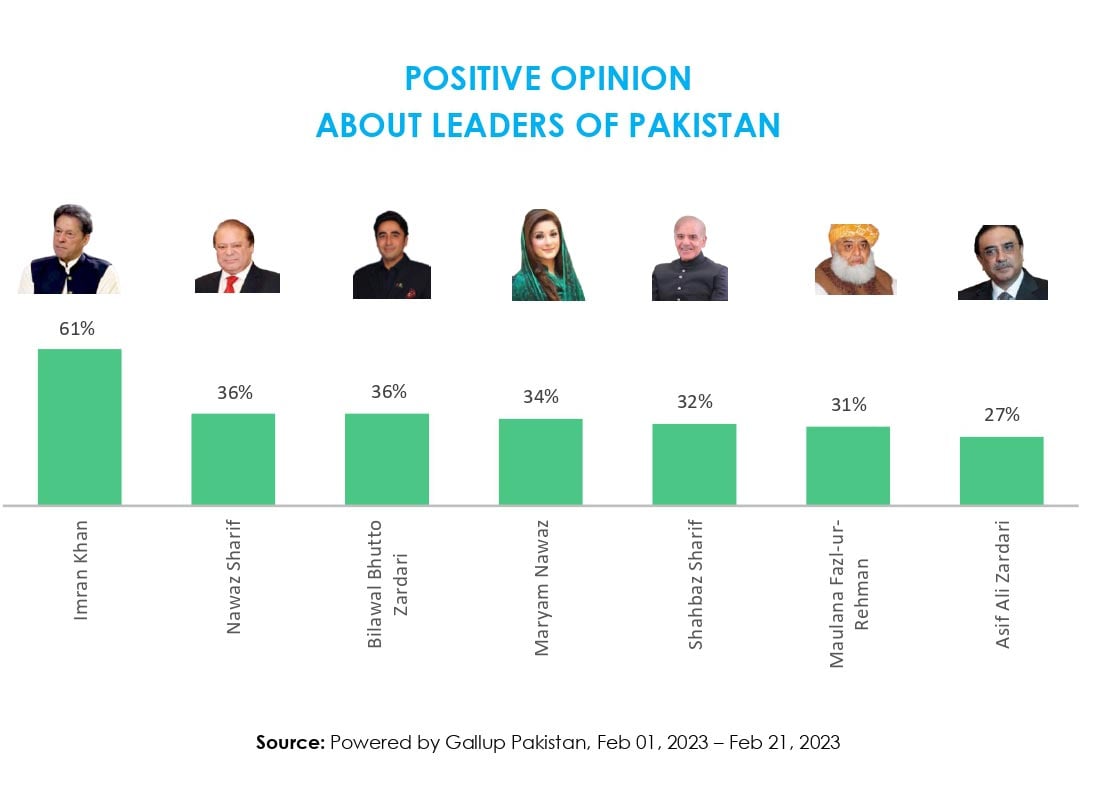 ---
Key finding of Gallup Pakistan's National Representative survey:
— 62% of Pakistanis blame PDM for the current meltdown rather than PTI.
— If there was a new party formed containing honest political members and technocrats, 53% of the people would vote for the new one.
— 21% of people reported that someone in their household has lost their job in the past six months.
— Khan seems to be the most positively rated politician while their opinion regarding Asif Ali Zardari is least positive.
— PTI chief received a positive rating from 61% of the population while 37% rated him negatively.
— People from Khyber Pakhtunkhwa gave Khan a positive rating, the highest amongst the provinces for any politician.
— Almost 3 in 5 (59%) gave Nawaz a negative rating while 36% gave him a positive rating.
— 36% of Pakistanis rated Bilawal positively while 57% gave him a negative rating.
— Maryam Nawaz was rated negatively by 61% while 34% gave her a positive rating.
— 65% of Pakistanis rated Shehbaz Sharif negatively while 32% gave him a positive rating.
— Maulana Fazlur Rehman received a negative rating of 57% while only 31% gave him a positive rating. 
— The majority 61% want Nawaz to return; among them 91% of PML-N voters want him to return.
---
The PDM alliance, led by Prime Minister Shehbaz Sharif's Pakistan Muslim League-Nawaz (PML-N), had ousted Khan in April last year through a no-confidence vote, pushing the narrative that the former cricket captain had mismanaged the economy.
PM Shehbaz and his government have since made tough decisions to raise energy prices and taxes to revive a loan program with the International Monetary Fund (IMF). He has seen his popularity drop to 32% in February from 51% in January 2022.
Gallup Pakistan Executive Director Bilal Gilani, according to Bloomberg, said: "Imran Khan's popularity rests on strong fundamentals of being a charismatic leader, giving slogans that resonate with the public while there is a vacuum in Pakistani politics.
"The real news is the major dent in the PML-N leaders' ratings, which have seen an almost 20% decline in their popularity. The IMF decisions have precipitated the decline but the reasons were deeper and long term."
The survey — which was carried out between February 1 and 20 — showed that almost one in five Pakistanis reported that they have either lost their jobs or know someone from their households who is out of work.
"The government's popularity declined due to a changing voter base with the 18-30 age group now making up almost 45% of the total," Gillani said, adding that this group tends to associate PM Shehbaz and his elder brother, three-time premier Nawaz Sharif, with corruption and have struggled to relate with party's infrastructure development narrative.
In response to questions regarding Nawaz — who is in self-exile in London for the last five years — it was seen that his support has declined to 36% from 55%. A majority of 61% of respondents — among those 91% of them were PML-N voters — want Nawaz to return.
Pakistan is scheduled to hold polls in two of the four provinces next month after the PTI dissolved the legislatures. These elections will signal the public mood ahead of the national vote that will be held less than sixty days after the government term ends in August.
Khan will begin campaigning for the provincial polls on Wednesday with a protest rally. He has been pushing for early general elections but PM Shehbaz has said he wants to see through the IMF programme and the government term.