Sure of its chairman's bail from the Islamabad High Court (IHC) in the Al-Qadir Trust case, Pakistan Tehreek-e-Insaf (PTI) has called its supporters to the federal capital where former prime minister Imran Khan is set to make an address after his appearance before the high court today.
Taking to Twitter, the PTI tweeted on its official handle: "Thousands of peaceful Pakistanis from across the country will gather at Srinagar Highway G-13 Islamabad this morning to express solidarity with Chairman Tehreek-e-Insaf Imran Khan."
The tweet also added that after appearing in the IHC, Khan would address his supporters. 
"After appearing in the Islamabad High Court, Chairman Imran Khan will have an address at this venue." 
Khan is scheduled to appear before the IHC today for a hearing regarding the Al-Qadir Trust case — in relation to which the National Accountability Bureau (NAB) arrested Khan, sparking violent protests across the country.
Arrest 'illegal': SC
In a major legal victory for Khan yesterday, the Supreme Court declared that his arrest on the IHC premises on May 9 was "illegal" and that authorities should release the PTI chief "immediately".
The apex court instead sent Khan to the Police Lines Guest House and ordered him to present himself before the IHC at 11:00am today.
The SC also set the precedence that no person will be arrested within the premises of a court.
PTI celebrates
Following Khan's release from NAB's remand, elated supporters of the party poured into the streets, championing the court's decision.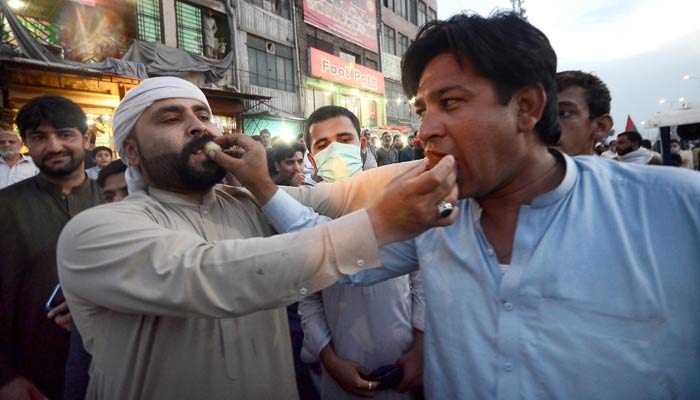 Ex-special assistant to the prime minister on youth affairs Usman Dar called on the party supporters to take to the streets to express solidarity and gratitude to the top court.
"All Pakistanis, wherever they are, should come out to express solidarity and gratitude to the Supreme Court in their respective areas," the PTI leader tweeted.