After the dramatic arrest of ex-prime minister Imran Khan from the premises of Islamabad High Court (IHC) Tuesday in the Al Qadir Trust corruption case, violent protests broke out bringing the country to a grinding halt and forcing the government to take desperate measures.
International media also covered the events unfolding in Pakistan, highlighting the struggle for power between the Pakistan Tehreek-e-Insaf (PTI) Chief Khan and the ruling cadres of the country.
BBC portrayed it as an escalation of tensions between the country's military and his party amid financial turmoil. It also highlighted that the army has been called in to prevent violence.
CNN also focused on the strained relations between the military and the cricketer-turned-politician. It underlined that his arrest sparked deadly violence and anger against the country's military putting the country on an edge.  
Guardian covered the violence that was started after the dramatic detention of a 70-year-old PTI chief, stating that the army deployed across the country after violence resulted in nine deaths. 
The report noted the souring of relations after the PTI chief was ousted from power through a vote of no confidence, highlighting that the former cricketer's popularity has increased since he was ousted from the premiership.
New York Times also reported Khan's arrest, noting that violent protests broke out across Pakistan. It also said: Khan crossed a line against defying the army that has rarely been breached in Pakistan's turbulent history.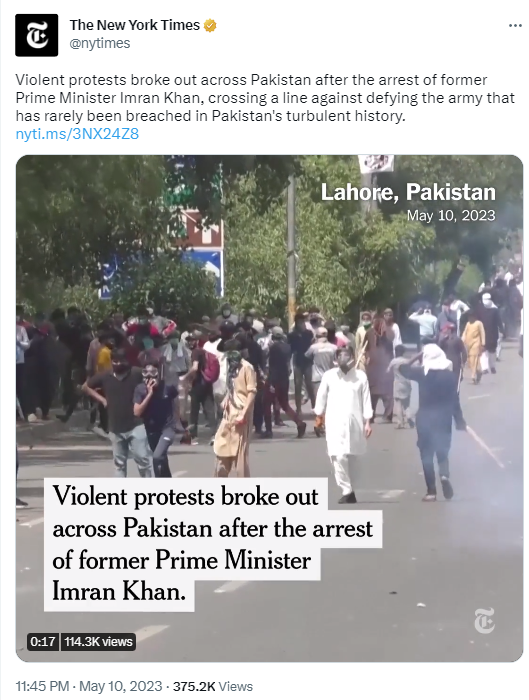 Reuters noted Imran Khan as the country's most popular leader citing opinion polls.
The Washington Post said that Khan was making a major push to return to power.
According to Time magazine: "On the streets of Islamabad, hundreds of protesters blocked main highways, while others tore down street signs and sections of overpasses, hurling stones and lighting fires."
As international media reports widely covered Imran Khan's arrest and its aftermath, local media also covered it from several perspectives noting how the PTI leaders were arrested and how the hooliganism of demonstrators wreaked havoc throughout the country.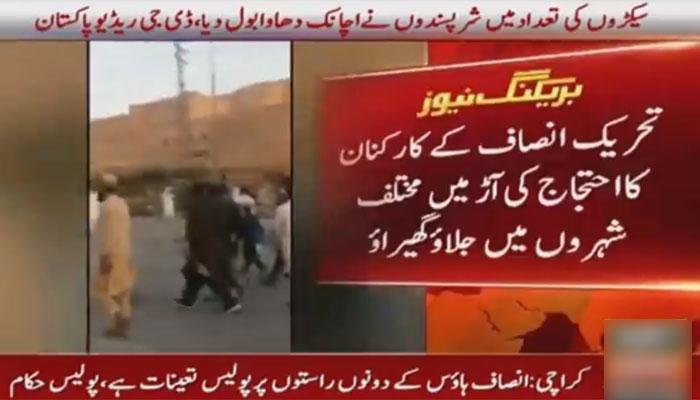 Other media reported the ongoing drive for the arrest of PTI leaders from different places. 
Another local media group showed a recording of an audio call between the two party leaders talking about ransacking a house.
Police have contained the violence and protesters seemed to be backing down; however, it is yet to be seen how the situation unfolds down the line. 
The sorry state of affairs across the country has further fuelled the uncertainty regarding the International Monetary Fund's (IMF) bailout programme, which has been hanging in balance for a long time, amid high interest rates, and back-breaking inflation.